Tooth-Colored Fillings Treat Cavities without Compromising Your Appearance
Dental fillings can repair teeth damaged by decay and protect the overall integrity of your smile. At Elite Dental Care, we place tooth-colored fillings as opposed to traditional silver fillings. Composite resin (tooth-colored material) is highly durable and more aesthetically pleasing, providing patients with long-lasting results. With offices in Jackson, Trenton, and Germantown, TN, we are proud to help our patients achieve optimal oral health and a beautiful smile.
What Are Composite Fillings?
Composite resin is a high-quality dental material used for a number of restorative and cosmetic treatments. A tooth-colored – or composite – filling is commonly used to repair a cavity. In order to restore a tooth compromised by decay, the damaged portion of the tooth must first be removed. We can then fill the tooth with a composite material to reinforce its structure.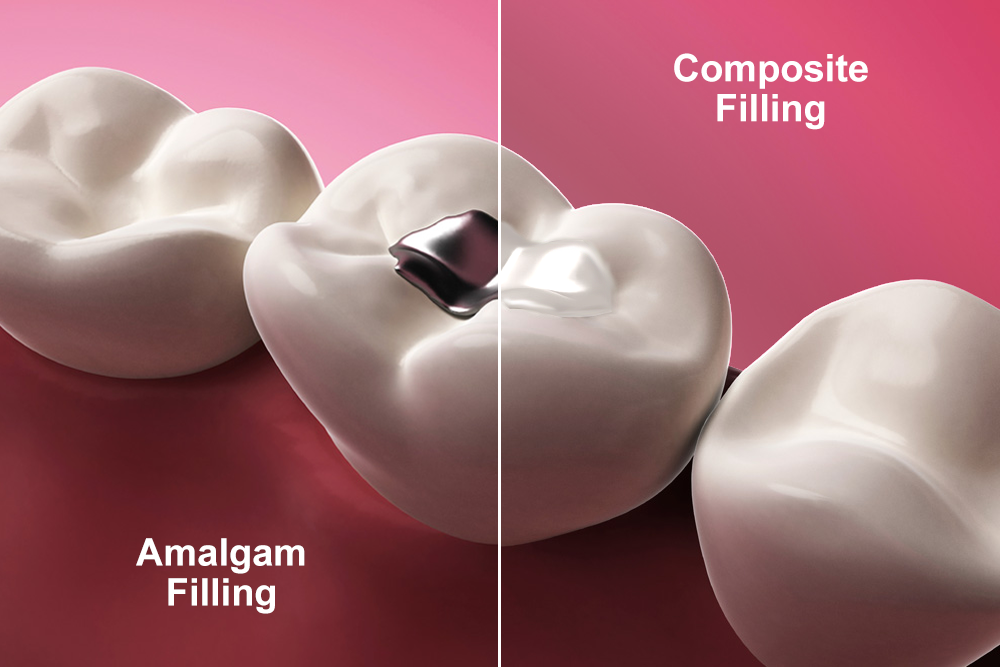 Safer, More Aesthetic Treatment
Traditionally, cavities were filled with silver amalgam. These restorations are made up of a mixture of tin, silver, copper, and mercury. Although the Food and Drug Administration (FDA) considers amalgam fillings safe for children and adults, they contain mercury, which can be toxic in larger quantities.
Composite resin can be precisely color-matched to blend in with your smile, so tooth-colored fillings are virtually invisible.
Additionally, due to their metallic color, they do not blend in with your surrounding teeth. As a result, many patients choose to have their old silver amalgam fillings replaced with a tooth-colored material. Advantages of composite fillings include:
Temperature-Resistance: Silver amalgam fillings expand and contract with fluctuations in temperature. Composite material is temperature-resistant, so it does not weaken the tooth or result in minor chips or cracks.
Less Invasive Techniques: Composite fillings typically require less preparation and drilling. Your doctor does not have to remove as much of your natural tooth structure when placing a composite filling.
Aesthetically-Pleasing Appearance: Because composite resin can be precisely color-matched to blend in with your smile, tooth-colored fillings are virtually invisible.
Reduced Sensitivity: Most patients report less discomfort and sensitivity when receiving composite fillings, as opposed to traditional silver fillings.
Restoring Your Tooth with a Dental Filling
Receiving a dental filling is a fairly simple and straightforward process. If you have a cavity that needs to be repaired with a filling, you will undergo:
Initial Consultation: Your doctor can conduct a full assessment of your teeth and gums. We may also take digital x-rays to properly diagnose the size of the cavity.
Preparation: Using gentle dentistry techniques, we can carefully remove the damaged portions of your tooth. We can then apply an etching solution to your tooth to help the composite material bond successfully.
Filling: Once the tooth is prepared, we can carefully layer composite resin to fill the void left behind by the cavity.
Curing: To harden the composite material, we can apply a special curing light.
Shaping: During the final step, your doctor will gently smooth out any rough edges, check your bite, and make any necessary adjustments.
At our practice, we incorporate advanced technology to precisely plan and execute our treatments. If you have any additional questions about the treatment process, our team would be happy to assist you further during your visit.
Preserve Your Smile
Dental fillings are one of the most common dental procedures performed today. If you have symptoms of tooth decay, it is important to receive appropriate treatment as soon as possible to protect your smile. To schedule an appointment, you can call one of our three office locations or contact us online anytime.