Gaps in your smile left by missing teeth can compromise the health, comfort, and appearance of your smile.
Dental implants offer an unrivaled solution for tooth replacement. By replacing the entire tooth, implant-supported restorations restore the look, feel, and function of missing teeth.
So why should you consider dental implants from Elite Dental Care?
Replace Missing Teeth with Dental Implants
Dental implants are widely considered to be the finest option for replacing missing teeth. Implants are the only treatment that will actually replace the missing tooth's roots. Once the implants have been allowed to heal and integrate with your jaw bone, the restorations can provide a secure base for a permanent crown, bridge, or denture. At Elite Dental Care, we provide expert dental implant treatment from placement to restoration. Dr. Clint Buchanan has taken extensive courses in this treatment, and Dr. Mark Harper has completed master-level training. You can undergo your treatment at one of our three convenient offices in Jackson, Trenton, and Germantown, TN.
Determining Your Candidacy
All candidates must have a minimum amount of healthy bone tissue to support the implants and their attached restorations. Dr. Buchanan or Dr. Harper will carefully examine your jaw using x-rays and 3-D cone beam scans. If you have suffered significant bone recession, your doctor may recommend a bone graft or sinus lift to improve the structure to support your implants.
Dental Implants Testimonial David Nelson
At Elite Dental Care, we can provide dental implants to patients seeking a secure, durable solution for missing teeth. If you are a candidate for this procedure, we can perform the surgery at your first appointment and will then place your final restoration after your jaw has fully healed in about three months. Our patient David Nelson explains how the choice to receive an implant-supported restoration has improved his quality of life.
What to Expect During Treatment
Traditional dental implants require at least two different surgeries, separated by four to six months of healing time: one to place the implants and one to attach the abutments. Your entire treatment plan will typically be completed over the course of several months with breaks in between to allow for proper healing. Because each patient heals differently, it could take longer.
At Elite Dental Care, we offer personalized care for your comprehensive dental implant treatment.
Treatment Phases
Phases of traditional implant treatment often include:
Extractions: Your dentist may need to clear the site, which involves removing the damaged tooth
Prerequisite Procedures: Patients may require bone grafting to build up and strengthen the jaw.
Implant Placement: After your jawbone and gums have had time to heal and recover, the dentist will surgically insert the implant or implants into your jawbone
Healing Period: You will then go through another healing period known as osseointegration, which allows your jawbone to fuse with the titanium post. Throughout the healing process, you may experience discomfort, swelling, bruising, and some minor bleeding. Your dentist will give you detailed after-care instructions to follow, such as which medications to take, when to apply ice or cold packs, and which foods to avoid.
Attaching the Abutment: After healing is complete, your dentist will place the abutment (a connector) piece to the top of the implant
The Dental Implant Procedure
Before your implant surgery, your doctor will use a local anesthetic to numb your gums and jawbone. We can also provide oral conscious sedation to help you relax throughout the procedure. To begin, your dentist will create tiny incisions in your gums, allowing access to the underlying bone. After placing the implants in your jaw, he will close up the incisions with small, dissolvable sutures.
Types of Dental Implants
At Elite Dental Care, we offer personalized care for your comprehensive dental implant treatment. To meet your individual needs, we offer several implant options. Typically, we use products made by Nobel Biocare®, widely considered the world's leading manufacturer of dental implants. You may qualify for different types of implants, including:
Traditional dental implants: If you are going to receive an implant-supported crown or bridge, and you have sufficient jawbone volume, you may qualify for traditional implants.
Mini dental implants: Mini implants have a much smaller diameter when compared to traditional implants. If you have suffered jaw recession, they can sometimes eliminate the need for bone grafting.
All-on-4®: Our dentists will often use the All-on-4® method to secure permanent dentures immediately after surgery. With this technique, they will place four posts at a slight angle.
TeethXpress®: TeethXpress® can provide stability for a full denture in as little as one appointment. For this treatment, your dentist will place four to six implant posts.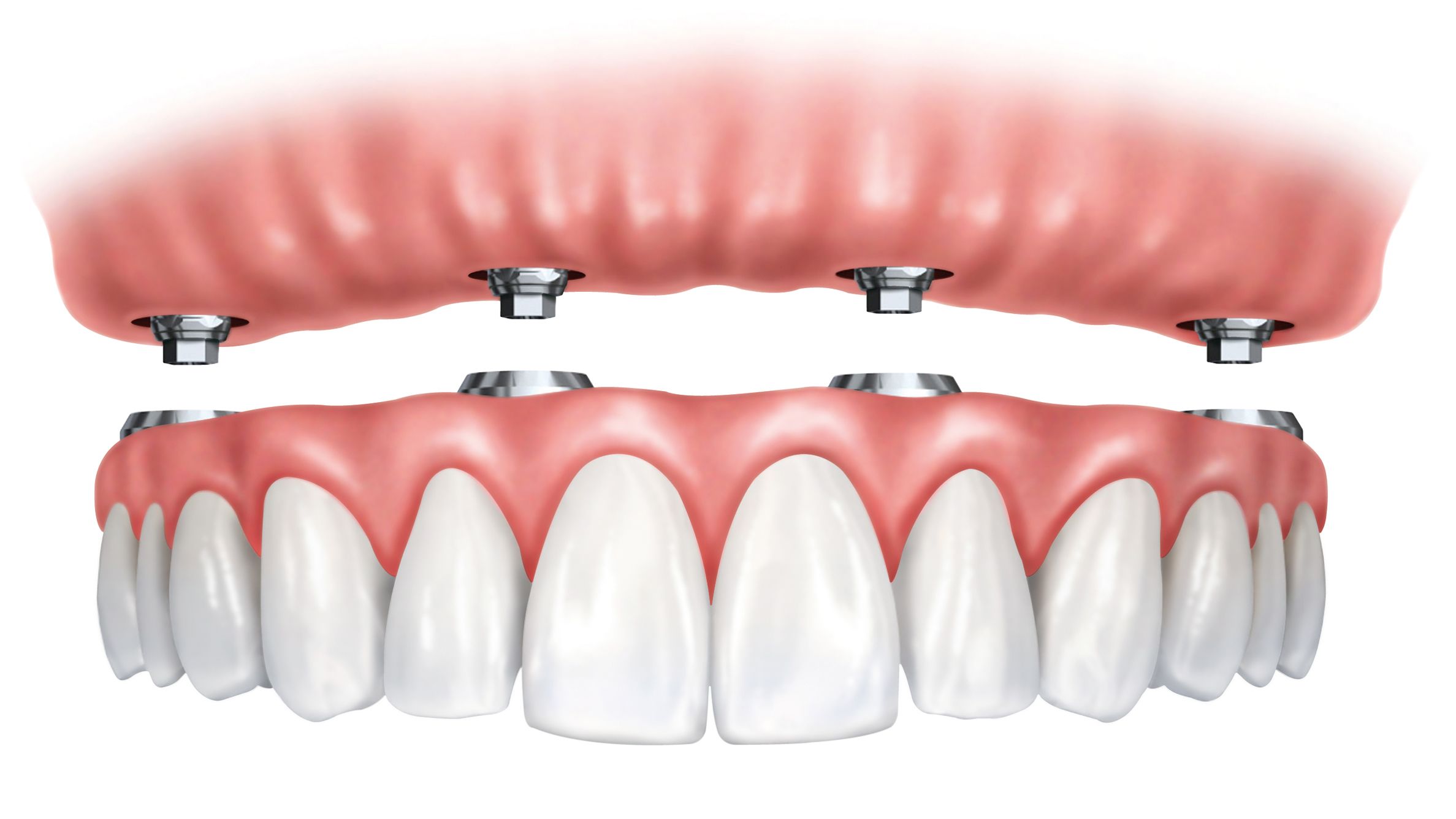 Why Choose Dental Implants?
No matter what type of implants you receive, they will offer numerous benefits. The most apparent advantage is that implant-supported restorations are incredibly secure. Because the implants will replace your dental roots, your new teeth will never slip or move out of place. You can:
Eat all of your favorite foods
Smile freely
Speak with confidence
In addition, implant-supported restorations do not require metal clips or plastic bases and will look more natural than other, removable restorations. Finally, like a tooth's roots, implants send regenerative signals to your jawbone, which can prevent bone recession, an aged appearance, and further tooth loss.
Hands down BEST dentist!! I have yet to enter their building without a warm welcome. They always make you feel like family and insure the best care.

Zoe M.
Rebuild Your Smile
If you are missing teeth, dental implants can improve your oral health as well as the appearance of your smile. Learn more about our comprehensive implant treatment options by contacting our office online or calling one of our three convenient locations to schedule an appointment.