Restore Aesthetics and Function
to Your Smile with Dental Bridges
If you are missing one or more adjacent teeth, dental bridges can fill in the gap to restore the aesthetics and function of your smile. If tooth loss is left untreated, it can lead to serious oral conditions, such as dental misalignment, bone loss, and facial structure changes. Our range of restorative services at Elite Dental Care can meet each patient's needs and budget. When replacing missing teeth, your options include traditional dental bridges and implant-supported restorations. Our doctors can conveniently perform all steps involved for both traditional and implant-supported dental bridges under the same roof at our state-of-the-art facilities in Germantown, Trenton, and Jackson, TN.
Comparing Your Bridge Options
Traditional
Typically made from durable, natural-looking porcelain, a traditional bridge is designed with at least one or more artificial teeth (pontics) flanked on either side by a dental crown. These crowns will support the restoration and are held in place by the surrounding, healthy teeth.
For this type of restoration, our conservative approach preserves as much natural tooth structure as possible, providing long-term benefits to jaw and gum health
Implant-Supported
If you are looking for a more stable, longer-lasting approach, you may enjoy an implant-supported bridge. For this type of restoration, your doctor will first surgically insert small titanium dental implants into your jawbone.
Once the implants have successfully fused with your bone, we will securely affix a durable, yet realistic bridge to the implants.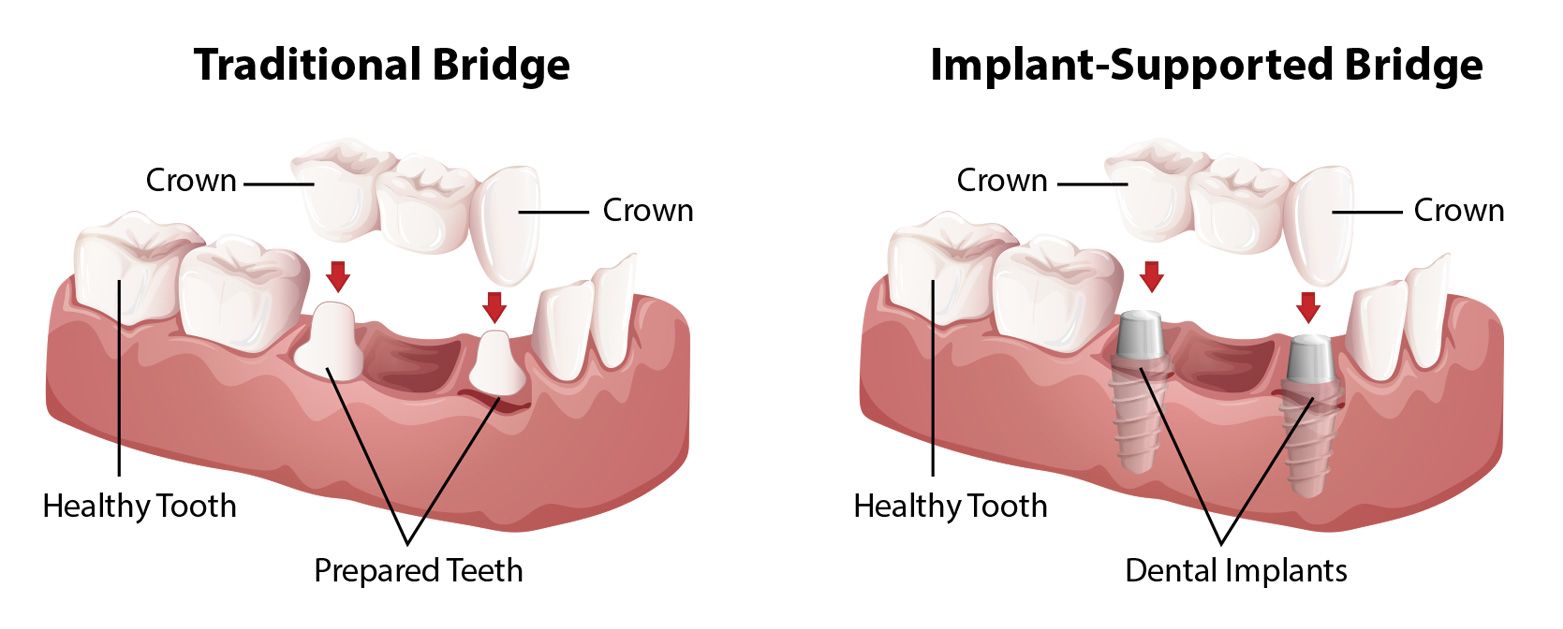 The best candidate for a dental bridge includes anyone with good oral health who happens to be missing one to three consecutive teeth.
Because your remaining teeth act as anchors for a traditional dental bridge, it is imperative that your teeth are free of tooth decay and gum disease. In some cases, dental fillings and periodontal care can be performed beforehand to help stabilize and prepare your other teeth.
Special Considerations for Implants
To qualify for an implant-supported restoration, our team will check your jawbone for any signs of bone degeneration or gum recession. Sufficient jawbone strength is important to ensure the implants are able to successfully fuse and form a firm foundation for your restoration. If any signs of bone loss are found, bone grafting may be necessary to help strengthen your jawbone.
Great place to go for and dental needs. The doctors and staff are so kind and make you feel like part of their family, I highly recommend Elite Dental.

Margie W.
Planning Your Procedure
Candidacy, Cost, and Financing
Our team will scan your teeth and gums using 3-D cone beam x-rays and other advanced technology to determine your candidacy and which restoration is best for your long-term health.
With our digital imaging, we can create a more accurate treatment plan that will deliver optimal results. These digital impressions also eliminate the messy putty molds formerly used to help design dental bridges.
Our team is dedicated to providing the highest level of care with our state-of-the-art technology and restoration materials. We can help you restore your smile with lasting, lifelike effects.
Once the right device is determined, the doctor will create a personalized treatment plan that will include the costs involved and the type of sedation preferred. At Elite Dental Care, we accept CareCredit® financing to help offset the costs for patients that desire implant-supported bridges when insurance may only cover a traditional bridge.
The Placement Process
for a Traditional Bridge
All restorations that we provide are created with advanced materials for optimal aesthetics and durable, lifelike results. During your dental bridge procedure, we will first administer any agreed upon sedation to ensure your comfort. Once you are ready, we will begin your treatment.
For a Traditional Dental Bridge
Your doctor will carefully reshape and resize the two teeth on either side of the gap in your smile. This process is vital for the bridge to adequately and securely fit. We will then take detailed impressions and place a temporary restoration while you wait for your permanent bridge.
In some cases, we can provide same-day restorations with our advanced E4D technology. Once your restoration is completed, we will check the fit before securely bonding it to your teeth.
For an Implant-Supported Bridge
Dr. Mark Harper or Dr. Clint Buchanan can surgically insert at least two implant posts to support your restoration. After the surgery, your jaw will require four to six months to fuse with the posts. This healing period is crucial to the long-term success of your device.
Once the implants have fused with the bone, our doctors can attach abutments (small connectors) to each implant post and then affix your dental bridge.
Receiving an
Implant-Supported Bridge
Our Germantown Location
If you are interested in replacing multiple missing teeth with a dental bridge, contact us online to schedule your consultation with one of our trusted doctors. You can also reach us by phone at our Germantown location at (901) 751-3776 or one of our other convenient offices.
Our team is dedicated to providing the highest level of care with our state-of-the-art technology and restoration materials. We can help you restore your smile with lasting, lifelike effects.